Current Projects « Programmes
Marudhar Mein Jal Swavlamban

Ensuring Water Security and Combating Desertification in Western Rajasthan
| | |
| --- | --- |
| | The Western Rajasthan of Thar desert region is facing challenges of soil erosion, rapid shifting of sand dunes, desertification, moisture stress, and prolonged dry spells which can be attributed to climate change. It thus has the potential of putting the agrarian economy at risk and exacerbating the problem of water and food insecurity. Western Rajasthan is part of the Thar desert falling under the arid and desert climatic zone, mostly dependent on rain-fed agriculture. Agriculture practices in Thar are showing shifting trends. Desertification is a major concern and it is making more and more lands non cultivable. This is compelling the community to shift from traditional farming practices to short term production techniques. |
There are signs of increasing stresses on the land and erosion of community management of natural resources particularly the nadi (small pond) and its catchments (agor), oran (community forest) and gauchar (grazing land) and other water bodies. Water intensive agriculture in desert landmass owing to Indira Gandhi Canal System has caused water logging and salinity in many places. There is increase in the intensity and frequency of heavy to very heavy rainfall events and less number of rainy days causing disaster risks and adversely affecting rain fed agriculture. The 2006 qand 2016 flooding in the desert (Badmer floods) is an example of adverse impact climate change.
Dalits have been historically subjected to pooraccess to common services including water. They are placed lowest in the socio-economic, cultural and religious strata. Living in scattered dhanis, they are physically removed from the main source of water. Women and girls end up spending a quarter of their day in meeting the minimum water needs of the family. For the poor dalit families water at home ensures accessibility to the wage market. At the time of prolonged drought, the dalit community faces increasing hardship to access water and loses its coping mechanism resulting in distressed migration abandonment of cattle and indebtedness. In every three years, two are drought periods. Access to water in the drought period can considerably de-concentrate the risks of the poor.
Scarce rainfall in the region has developed local traditional wisdom for water harvesting and management of water resources. Unfortunately, it is slowly dying out due to high dependence of single source, particularly piped drinking water and lack of community managed mechanism. There is a complete neglect in the management of common property resources (CPR), particularly traditional rain water harvesting bodies like nadis, agors, orans and gauchars. This has also adversely impacted the fragile desert ecology leading to desertification, increasing wind velocity and heat wave. As per Rajasthan State Water Policy 2010, out of 237 water blocks in the state, 80 percent are in the dark zone. In large areas of the state, ground water is over exploited and the water table in some areas is falling down at the rate of 3 m per year. The Mukhya Mantri Jal Swavalmban Abiyan which is currently in its third phase has created and revived many water bodies invoking community level action and volunteering.
The Project 'Marudhara Mein Jal Swavalambhan' is supported by European Commission (April 2018 – March 2023) to enhance community action, particularly with the participation of women's groups (Jal Saheli Group) and Panchayati Raj Institutions (PRIs) to address water security in the Thar Desert region of Western Rajasthan. The project has twin approach,
| | |
| --- | --- |
| | It intensively covers 150 villages in Sindri and Patodi block covering 30,000 households. |
| | Through promotional activity with CSO engagement, it intends to cover additional 750 villages of 10 districts - Jodhpur, Badmer, Jaisalmer, Pali, Jalor, Bikaner, Nagor, Churu, Sikar and Jhunjhunu. |
Overall Objective
Contribute to the enhanced adaptation and mitigation of climate change vulnerabilities in Thar Desert region of western Rajasthan
Specific Objective
The capacity of CSOs is enhanced, community resilience is strengthened and participation of vulnerable communities, particularly of the Dalits and women is deepened in addressing eco-system fragility and climate change concerns.
The 10 Districts of Rajasthan to be covered in the project (District Map of Rajasthan State)
Community resilience in climaterisk agro-ecology can be best addressed with decentralised governance and active involvement of CBOs and CSOs in developing local analysis for community led action and taking up constructive role for adaptive actions like revival of CPR and efficient water use in agriculture to combat desertification.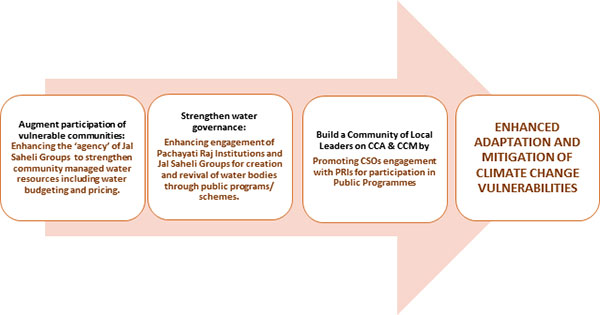 Results and Proposed Activities
There are 5 result areas intended to be achieved in the life cycle of the project:
Citizen are aware and mobilised on water conservation, efficient water use, bio-diversity, climate change adaptation and mitigation.
It will be achieved through village level action plan, Sodh Yatra, Radio Program on preservation and conservation of desert ecology and conservation for building resilience. A school education program will be developed on understanding of desert ecology and bio-diversity.
Improved access is developed for diverse sources of drinking water, sanitation, personal hygiene and use of clean energy at household level particularly focusing on the vulnerable section in the community.
It will be achieved through formation and strengthening of community-based village level women collective (Jal Saheli Groups) and engagement of PRIs on water resource development using public programs.
Water and ecological governance is strengthened by active participation of PRIs and community leading to enhanced financial allocation to take up local actions on management of CPRs and Climate Smart Agriculture.
It will be promoted through capacity development of women's collectives like 'Jal Saheli Group' through cluster level 'Climate Resilience Schools' so that they can take lead role in eco-sensitive local planning, management of common property resources, water budgeting and pricing and interfacing with the gram panchayat. Village Development Plans are developed and implemented using public/govt. schemes like MGNREGA, Finance Commission recommended resources, etc.
CSOs working on water and climate change develop capacities on situation analysis, community action, resource mobilization, practice diversity and accountability and skill for advocacy and policy dialogue.
It will be achieved through capacity development on climate sensitive situation analysis, strategic planning exercises with CSOs and other stakeholders. There is provision of Small Grant Projects (SGPs) to 25 CSOs for 9 to 15 months duration (CSOs having FCRA). Each grant size would be about Rs. 7 lakh. It will be awarded after selection of applications by the committee. Each project is expected to cover about 35 villages and 7000 families.
Collaborative partnership established to promote local community action, knowledge building on community adaptive practices on Climate Change concerns and increased decentralized public funding.
To achieve this, conventions of community level water leaders will be organized covering Western Rajasthan and other parts of India for open sharing and learning. Knowledge products emerging out the actions primarily from the Sodh Yatra and annual convention of community water leaders focusing on contemporary evidences and examples of community led climate change adaptive practices.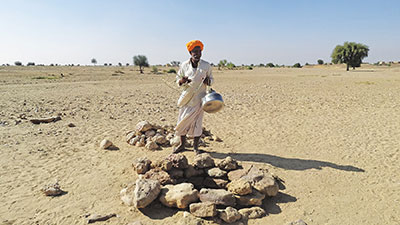 Improving Access to Information
on Public Schemes in Backward Districts in India
| | |
| --- | --- |
| | Strengthening inclusive civic leadership for social accountability and effective service delivery of public programmes in Rajasthan and Gujarat, India (2014-2018) |
Public schemes play an important role in poverty reduction, reducing inequalities and promoting inclusive growth. Rural poor households will be able to gain substantially both socially and economically, if they are able to access the benefits of public schemes. On the one hand this is dependent on effective implementation of these schemes by a responsive and accountable delivery mechanism. On the other hand this is enabled through demand raised by an aware citizen. Human development indicators are determined by the access to primary health care, primary education, social protection and gender equity enjoyed by the citizens of a country. Higher human development enables the citizens to fulfil their aspirations for greater political participation leading to creation of an improved human development index and social capital.
The three broad areas of primary health care, primary education and social protection and social security cover the basic needs of poor households. Following a life cycle approach these schemes are designed to benefit the child prior to its birth by focusing on the health of the girl child, adolescents, pregnant women, newly born, persons with disabilities, single women, destitute children, elderly and persons belonging to schedule caste and scheduled tribe. These schemes play a pivotal role in providing a safety net for poor families. The World Social Protection Report 2014/15 published by the International Labour Organisation claims that only 27 per cent of the world's population enjoy access to social protection and social security programme/ schemes. The persistent low coverage is as a result of low access to information on the schemes, long process in collecting documents for proving eligibility – differences in the de facto and de jure processes, low allocation of funds for social sector, and low motivation of staff engaged in service delivery.
This project on 'Strengthening inclusive civic leadership for social accountability and effective service delivery of public programmes' in Rajasthan and Gujarat is initiated with support from the European Union from 2014 - 2018.
The overall objective of the project is poverty reduction through improved access to public services and institutionalisation of inclusive service delivery practices.
| | |
| --- | --- |
| | Primary Health Care |
| | Primary Education |
| | Social Security and Social Protection |
It is aimed that poor people and others in general will receive three times benefits from the public programmes in terms of quantity and quality compared to the present level of access. The baseline study not only looked at the extent of benefits received but difficulties in accessing these benefits.
| | |
| --- | --- |
| The project is being implemented in two blocks each in Barmer district of Rajasthan and Sabarkantha district of Gujarat. In each of the blocks, 15 panchayats are covered reaching out to a total of 60 panchayats in both the States. In Rajasthan the panchayats are predominantly habitated by the dalit communities and in Gujarat the population cover is mainly tribal based. | |
Delivery of public programmes can be made effective by making the transaction process clear to people, improving pro-active disclosure about the programmes related information, promoting people's participation by engaging the people's committees associated with the programmes and use of public grievance redressal system. The project has following set of activities:
Dissemination of Information on Public Programmes
Four block/ taluka level Information Resource Centre (IRCs) have been set up. It has information on the delivery process of all schemes, basic material like government resolutions, forms, guidelines, manuals and the know how of making applications under various schemes. It provides hand holding support to the beneficiaries in making applications and registering grievances and of reaching out to the community on a day to day basis.

Inclusive Civic Leadership for Social Accountability
Community members interested in working for their community as volunteers are identified and trained as citizen leaders from each of the panchayats. Regular capacity building inputs are being provided to select citizen leaders from dalit community, tribals, and persons with disabilities with a special focus on women. This cadre of citizens work along with the elected representatives and government line departments for effective delivery of services at the individual level as well as community level. Citizen leaders also mobilise the community for participation in the gram sabha, flag of issues and demand quality and timely delivery of services at panchayat/village level. Right to information camps are put up at the community level to generate demand and accountability.
Strengthening Panchayati Raj Institutions and Mandatory and Optional Committees
The elected representatives are encouraged to practice participatory planning, budgeting, preparation of and implementation of village development plans in convergence with various government schemes to reach the last mile particularly the vulnerable sections of the population. For each of the services provided at the panchayat/village level there are mandatory and optional committees to enable the PRIs to function effectively – social justice committees, school management committees, village health sanitation and nutrition committees, water committees, matru mandal, PDS committees and Rogi Kalyan Samities (PHC level). Association of these samities are being formed and they are encouraged to perform their role in accessing public schemes for the most vulnerable.
Citizen Engagement in Improving Public Services
| | |
| --- | --- |
| In every six month interval, on a campaign mode community members are mobilised to assess the effectiveness of public programmes and take up action to improve service delivery. Services and service providing institutions like anganwadis, primary health care centres, primary schools, fair price shops, MGNREGA and social security schemes are revisited and assessed on people's access, regularity and delivery of quality services. Based on the findings or situation citizen leaders and active members of the community are encouraged to take up local action, register grievances online, interface and dialogue with service providers, initiate dialogue with line departments and file RTI applications. At the end of each round a report is generated. After several rounds it will be evident if the situation is changing and what makes it work. This study also helps to analyse the priorities of the community and the schemes that require more attention. | |
Facilitating Pro-Active Disclosure
At the panchayat and service providing institutions like schools, PHCs, anganwadis, FPSs, MGNREGA worksites, service providers are encouraged to practice pro-active disclosure as mentioned under the Right to Information Act, 2005. Formats for wall writings have been developed on name and contact details of Public Information Officer and Appellate Authority, service providers and committees, beneficiary lists, lists of quantity, quality and price of services offered, annual budget and expenditure, etc. This is being implemented with the strategic involvement of citizen leaders.

A state level study of various websites of different government departments has been conducted with the support of the Information Commission in Gujarat and the findings have been shared for wider implementation. A similar study is being conducted in Rajasthan.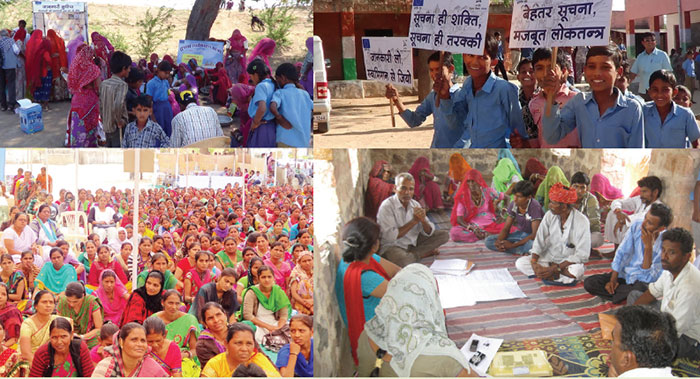 Tracking Implementation of Schemes
The process of accessing various schemes and its implementation is tracked beneficiary wise. This information is used to identify bottlenecks and suggest to district and State level authorities for reform in programmes implementation mechanism. Networking and regular meetings and dialogue is held with various government line departments to work out meaningful processes of implementation.
IEC Materials and Documenting Experiences
The process of accessing various schemes and its implementation is tracked beneficiary wise. This information is used to identify bottlenecks and suggest to district and State level authorities for reform in programmes implementation mechanism. Networking and regular meetings and dialogue is held with various government line departments to work out meaningful processes of implementation.
Popular and user friendly material on various schemes is prepared with particular emphasis on the eligibility criteria, documents required in the application and the amount of benefit in monitory terms for the individual/family. From time to time leaflets of individual schemes are also published that has elaborated the process after experience of accessing a scheme. The learning derived on accessing schemes, success stories, policy level changes made in reforming governance mechanism, debates around implementing public schemes, strategies for poverty alleviation are compiled and published in a quarterly/four monthly bulletin 'Vichar' in Gujarati and Hindi languages. This is widely circulated among stakeholders – citizen leaders, PRI representatives, government line departments at the block/talukas, district and State levels, educational institutions and universities for wider learning.
Collaborations with Civil Society Organisations
Networking and collaborations are being established with other civil society organisations on issues of entitlements and social accountability. Citizen leaders and staff have been participating in various State and national level campaigns like right to food, demand for universal pension, javabdehi yatra and mobilisation on the question of quality primary education in Rajasthan and for the passage of Rights of Persons with Disabilities Bill.
(The project budget is 800,000 Euro for five years duration. Out of this 80,000 euro is own contribution of Unnati. The project coordinator for Gujarat is Ms. Deepa Sonpal and for Rajasthan, Ms. Swapni Shah)
| | |
| --- | --- |
| | Information about public schemes disseminated to 11,635 households covering 64 panchayats. |
| | 214 Citizen Leaders initiated about 1000 information disclosure and accountability actions. |
| | More than half of gram panchayats practiced participatory planning and social audits for MGNREGA. |
| | Half of the gram panchayats have practiced pro-active information disclosure with 14 types of information disclosures introduced. |
| | Template was provided to various government departments for pro-active disclosure in both the States. |
| | 1908 anganwadi workers in Sabarkantha district were trained on early identification of disability in collaboration with EU partner GLRA / BPA. |
| | Interacted with the Rural Development Dept. and district level authorities in both the States for preparing village development plans (VDPs). |
| | In collaboration with GLRA eight EU project partners were oriented on mainstreaming disability. |
| | A protocol note was developed for issuing disability certificate for persons with disabilities in Gujarat. Subsequently a government resolution (GR) was issued by the department of Health and Family Welfare, GoG. |
Map Showing Project Locations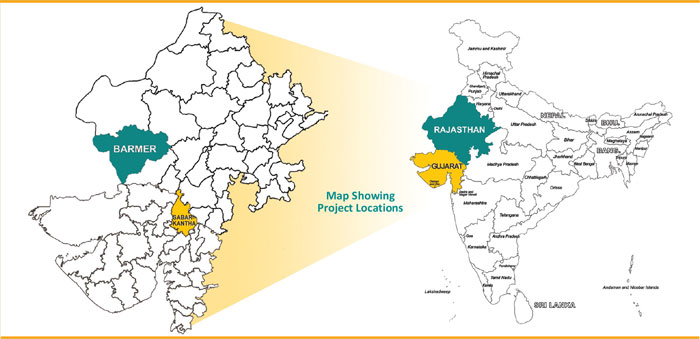 Activities undertaken as of December 2016
Strengthening Inclusive Civic Leadership for Social accountability and Effective Service Delivery of Public Programs in Gujarat and Rajasthan (Project supported by European Union)
This is the third year of implementation of the project 'Strengthening Inclusive Civic Leadership for Social Accountability and Effective Service Delivery of Public Programs in Gujarat and Rajasthan, India.' It aims to make 25 different public schemes and programs under Social Protection and Security, Health and Nutrition and Primary Education to effectively reach the last mile in 60 Gram Panchayats of two blocks each in Gujarat and Rajasthan. During 2014, the project was able to reach out to 7932 households, in 2015, 11,635 households and in the current year 21,414 households have been reached in information disseminated and enabling them to access different public programs. In several instances, field level information has been used to draw the attention of government officials to improve delivery of public programs.
Some of the important developments in the domain public program is the financial devolution by the 14th Finance Commission and subsequent introduction of Gram Panchayat Development Plan (GPDP) by Ministry of Panchayati Raj (MoPR), introduction of maternity entitlement of Rs. 6000/- for the first childbirth under National Food Security Act. SABLA yojana, a very important Centrally Sponsored Scheme targeting mal-nutrition in adolescent girls is discontinued in Rajasthan citing that there has been no specific communication from the Centre on this. Rajasthan has also back-tracked on the universal free medicine and medical treatment initiative and is also moving towards the PPP model in public health implementation despite stiff opposition from civil society groups. Rajasthan has made positive strides on MIS in public domain especially social security pension, PDS and grievance redressal. POS machines were also introduced in the state for PDS.
Information campaigns on public services
i. Jan-dhan Bank account, Aadhar and Mobile – JAM Campaign
By early 2016, details of most subsidy programs and schemes had been made on-line in Rajasthan and there had been drives to open bank accounts and their Aadhar seeding for Direct Benefit Transfer. There were several cases where bank accounts had been wrongly entered or the beneficiary information was not correct. Common people did not know about the process of opening bank account, how to make the newly opened 0-balance accounts operational. It was decided to do a campaign for educating people on the need for bank account and the process of opening and operating it. With the help of the block authorities, existing on-line information on bank account, Aadhar and mobile was shared with the people so that they could check it and get wrong information corrected. The campaign was done during February and March 2016 covering all 30 gram panchayats of Patodi and Sindhri blocks.
ii. Study on Access of Old Age Pension
Centre for Equity Studies (CES), an organization based in Delhi approached Unnati for partnering in a study on access of old age pension by people. It was conducted in 3 gram panchayats that were not part of the work area of Unnati. Detailed information was taken from 106 people who were eligible for old age pension. Later, we repeated the study in two gram panchayats of our work area to understand if differences were discernible in the extent of access and information about entitlements. Detailed information was taken from 51 people eligible for pension using the same survey tool. Four most important findings are listed here – (i) 72 percent people did not have information on entitlements in non-project villages and 8 percent did not have information in project villages. (ii) 29 percent of eligible people were not availing pension in non-project area and. (iii) Nearly 50 percent people in non-project area had not received their pension for more than 6 months. This was because they were not informed about the verification formalities and Aadhar seeding of bank accounts. In our project area, there was nobody whose pension is pending for more than 6 months. (iv) All pensioners in non-project area complained about giving money to agent for making the application and even then the work not getting done because the agents were also not informed on procedures. None of the pensioners in our project area had used agents.
iii. Campaign on civic engagement for improving public services
Five rounds of campaigns on civic engagement for improving public services are planned in the project. The third and fourth rounds of the campaign were conducted in both States during the year 2016. Round 3 was conducted in May – June 2016 and round 4 was conducted in November - December 2016. In Gujarat, the process had to be carried over to January 2017 because Code of conduct for the gram panchayat elections on December 29, 2016.
The campaigns were repeated in some villages or falias and it was conducted for the first time in others. In the fourth round of the campaign, citizen leaders took the lead in conducting the exercise. Before the campaign, citizen leaders were provided training on various public schemes and entitlements and methods of participatory assessment of access to public programs. In the campaign, information on status of program implementation including details of beneficiaries and benefits was also shared with the people. Community members are encouraged to develop positive interface with the government implementing agency staff at the village level for making improvements in the service delivery.
Some useful trends have started emerging; pension is available to all the eligible persons, schemes related to education are fully accessible, anganwadis were mostly shut during the baseline but at least they are opening. MGNREGS was not being implemented at all in both the talukas of Gujarat but is now becoming active following mobilization of citizen demand. The issues identified during the campaign are followed up by the community and citizen leaders with the support of the facilitators from Unnati over a period of time. To cite an example, in Patodi block, Navorabera sub-centre the ANM was not available for the last 10 years, finally started functioning.
Training of Citizen Leaders and Citizen Centric Actions
It is proposed that the citizen leaders will be given six different types of trainings. Three rounds of 2-day trainings for the citizen leaders happened during the first and second year of the project. The fourth training in Rajasthan was on the theme of 'Use of e-governance mechanisms for strengthening public services' while in Gujarat it was on RTI Act and NFSA.
Action by citizen leaders on common cause helps to strengthen organized demand for quality services and it creates a social capital for the poor and excluded communities. Strengthening people's committees provisioned under the different social sector programs like the School Management Committee (SMC), Village Health Sanitation and Nutrition Committee (VHSNC), Village Vigilance and Monitoring Committee (VVMC), etc. strengthens program delivery as they provide legitimate spaces for community participation and demand for accountability.
Cluster level meetings are conducted with the program implementation committees like VHSNC, SMC, Committees under the Fair Price Shops and Matru Mandal Committees under the Anganwadis. As the committees start meeting regularly at the block / taluka level, the people's monitoring of the government programs improved. For example, the issue of around 200 eligible women who were not able to avail the benefits of Janani Suraksha Yojana (JSY) and Kasturba Poshan Sahay Yojana (KPSY) in the cluster covered under Ajavas Primary Health Center (PHC) of Poshina taluka, Sabarkantha district was taken up with the Medical Officer (MO). When this issue was brought to the notice of the Collector, he visited the villages to gather first hand testimonies. The MO and THO were replaced. The beneficiaries who were able to provide the required documents have received the benefits of this scheme. Additional fund was also sanctioned for construction of the PHC building.
2000 citizen centric actions are to be supported during the project period. 357 citizen actions were facilitated during the first year. 676 actions were facilitated during year 2. In the third year, citizen leaders have taken up 4,074 actions. Citizen leaders identified and developed under the project from amongst the dalit community and women are a very important resource at the village level who will carry forward the work of the project. These citizen leaders are not only being updated with information about the different public programs but also the skills to fill up forms, write clearly worded applications and grievances, gather information from digital sources etc. They are also supported to plan and undertake action at the village level for strengthening demand for services and accountability. Citizen leaders have articulated several times that they feel isolated in undertaking any accountability action. They are then targeted by the vested interest forces in the villages. Village /Gram Vikas Samities of 20-25 members have been created to take up the accountability action.
Villages covered in civic engagement for improving delivery of public services
Location
Coverage (Habitations)
Participation 3rd round
Participation 4th round
-
Round 1 Villages
Round 2 Villages
Round 3 Villages
Round 3 participation
Round 4 Villages
Round 4 participation
Patodi
23
30
22
644
30
558
Sindhri
14
29
29
693
27
837
Poshina
23
29
25
649
25
603
Vijaynagar
10
29
25
749
25
716
Total
60
117
82
2735
107
2714
Support to government programs and camps
A number of camps are organized by the government for awareness raising, fast track processing of applications for schemes and supporting documents to be submitted for proving eligibility. The camps are very important for the people but remote habitations usually do not have the information about it. Most people are not informed about the objective of the camp, what could be done there and the supporting documents that would be required. Communities living in remote locations are informed about the camps and they were brought to the camps with necessary documents to claim their entitlements. In Rajasthan, the camps supported include, 'Indradhanush' campaign for complete immunization, school enrolment drive, Pandit Din Dayal Upadhyay Jan Kalyan Shibirs that brought the administration to the villages, 'Ratri Chopals' and 'jan Sunvais' by relevant officials of the blocks and district to understand people's issues and public grievance redressal. In Gujarat the various camps supported during the year included 'Kisan Sabhas', MAA card camp, renewal of RSBY card camps and 'Sewa Setu' camps that are held for a cluster of villages on grievance redressal on issue of income certificate, caste certificate, MAA card, aadhar card, add or delete of name in ration card and name change, opening of bank account, age proof, health check-up, affidavits, and schemes implemented by Social Defence department.
Special efforts were made for information dissemination about the four disability certification camps held in Poshina and Vijaynagar talukas of Gujarat. One week before each camp, faliya meetings, citizen leader meetings, information kiosks and a 'mahiti rath' (information posters put up in a jeep equipped with information material anda megaphone announcing the public schemes) visited all the villages. Community meetings and meetings with village level government functionaries like Anganwadi worker, ASHA, school teachers to convey the date and venue of the camp, facilities available and documents needed.
Capacity Building of PRI representatives
It is proposed to organize five thematic trainings for PRI representatives in the four blocks during the project duration. In Gujarat, one day trainings were organized during January 2016 for PRI representatives, government officials and citizen leaders on Village Development Plan (VDP). In Vijaynagar training, the District Development Officer (DDO) and the Director, District Development Agency (DRDA) were also present. The aim of the training was to familiarize the participants with the process of VDP under Intensive Participatory Planning Exercise (IPPE-2), understand the reasons for poverty and exclusion and build a linkage with the poor quality of delivery of services and help build a vision for developing a model panchayat. In Rajasthan, Unnati is part of the State Resource Team for cascading model of trainings on Gram Panchayat Development Planning. Thus, Unnati has been involved in facilitating the trainings at the district, block and cluster level for different stakeholders in the districts of Barmer and Jodhpur and specifically the blocks of Shergadh and Balesar (Jodhpur district) and Patodi and Sindhri (Barmer district). In all, Unnati staffs were the primary facilitators in 22 trainings of more than 500 PRI representatives and government functionaries of different levels on gender sensitive planning and budgeting.

In addition, in Rajasthan, at the district level there was three-day training for the Zila Parishad members and functionaries of line departments of the district on December 5 – 7, 2016. On December 20 – 21, 2016, at the block level there was training for Panchayat Samiti members and functionaries of the block. A separate block level training was organized for Sarpanchs on December 27, 2016. Further several cluster level trainings were organized to cover ward panchs (Gram Panchayat elected representatives).
Support to Panchayats for proactive disclosure
It is obligatory under Section 4.1 (b) of RTI Act, 2005 for any public authority to pro-actively disclose information available with it. Placing information on government functioning, policies and programs contributes towards transparent and accountable governance. On the first year, 9 panchayats practiced proactive disclosure. In second year, pro-active information disclosure was practiced in 28 gram panchayats displaying 14 types of information at 131 locations. In the third year, pro-active information disclosure was practiced in 24 panchayats displaying 17 types of information at 327 locations.

In Patodi and Sindhri blocks of Barmer district, Rajasthan, several discussions with village level service providers and functionaries, PRI representatives, beneficiaries and citizens were held to understand their information needs and how disclosures could be made effective. Alternate formats for disclosure were developed based on their recommendations. These formats were again shared with the PRI representatives and program implementing officials in an effort to motivate them to disclose information pro-actively. As a result of the regular efforts throughout the year, 8 types (as per the RTI Act) of information was displayed across 17 gram panchayats in Patodi at 146 locations and All expenditure was borne by the gram panchayat or the service institutions themselves. Not only was the information displayed / wall painted it was read out to people in public meetings. As a result, at many locations, people raised questions on entitlements and quality of service. For example, Barnavajageer gram panchayat wall-painted the beneficiary list selected for Mukhya Mantri Awas Yojana (MMAY). People read the list with interest and then collectively demanded a re-survey for change of beneficiaries.
Preparation of information packages in accessible formats and dissemination
Following types of information packages have been developed in the project during year 2016:
| | |
| --- | --- |
| | Four issues of the quarterly bulletin Vichar has been published in Hindi and Gujarati languages and has been disseminated to 2050 CSOs, educational institutions, partners, media personal, government departments, PRIs and citizen leaders in Gujarat and Rajasthan. |
Eight leaflets are prepared in Gujarati on various schemes and disseminated so that the beneficiary finds it easy to collect the documents required for proving eligibility. It includes schemes on widow pension, old age pension, destitute pension, entitlements under NFSA, disability certificate and identity card. In Gujarat six voice messages were sent to citizen leaders, community and government functionaries on information regarding disability camps, renewal camps for RSBY cards, voter ID cards and submission of life certificate for pension holders.
In Rajasthan, leaflets were developed and disseminated on Bhamashah Swasthya Bima development) and Pradhan Mantri Awas Yojana (Housing support).
Pictorial display material in Hindi was developed on permissible works in Gram Panchayat Development Plan. (It was appreciated by Hon'ble Chief Minister of Rajasthan in a convention held at Banshwada)
Pictorial display material in Hindi developed on entitlements in public health, nutrition and primary education for use in participatory assessment of services and village level planning by citizen leaders and programme level committees.
Consultation and meeting for use of alternate template, formats for pro-active disclosure
Findings and recommendations from the Study of pro-active disclosure in Rajasthan were shared separately with the Department of Women and Child Development for ICDS, Department of Food and Civil supplies for PDS, Department of Social Justice and Empowerment for pension and Palanhar yojana and Rajasthan Sampark. The Government has acted on the recommendation to disclose detailed report of investigation and action on grievances registered on Rajasthan Sampark. This not only helps the aggrieved party to be appraised on the status of his grievance but also to decide on alternate course of action if not satisfied. PDS dealers were not required to make entries of purchases on the beneficiary ration card since the introduction of the Point of Sale (POS) machines. After discussion on the importance of the ration card for the beneficiary as their entitlement card, the Department has agreed to issue a Circular for continuing the practice. Continuous dialogue has been initiated on some other key recommendations like digital MIS for Palanhar Yojana, report generation of list of social security pensioners whose pension is temporarily or permanently stopped, disclosure of the abeyance report, report generation of who tried for bio-metric authentication and did not get entitlement,Summary of grievances rejected on the dashboard of Rajasthan Sampark (portal for grievance redressal).
In Gujarat, several meetings are held with government officials and line departments on an ongoing basis to dialogue on the need for pro-active disclosure at the service provider level, on the government websites and at the panchayats. Formats based on the 17 points mentioned under the RTI Act 2005 under section 4 (b) have been developed and these are shared for wall writings at the panchayat level. The Mamlatdar Poshina has released a circular for proper functioning of Fair Price Shops(FPS) with a focus on pro-active disclosure in early 2016. The Director Food and Civil Supplies at Gandhinagar has developed a format for pro-active disclosure at all FPS in the state and has issued a circular to all the District Supply Officers to do pro-active disclosure of stock, list of priority households, license of FPS, contact nos. etc as per the NFSA Act at FPS shops in a prescribed format. The circular also stresses that these should be solid boards and not on flex material. (It may be noted that Govt. of Gujarat implemented the NFSA from April 1, 2016 after the instruction of the Supreme Court.)
Training / workshops with officials of line departments
Workshops were held with officials of the line departments of Barmer district on February 25and September 5, 2016. The agenda was to share status of access of services emerging from the civic engagement campaigns and pro-active disclosure of information at the village level institutions. Second meeting was primarily for follow-up on the action points. The meetings were presided over by the District Collector and had representation from Additional Collector, Deputy Director, Women and Child Development, Chief Medical and Health Officer, District Elementary Education Officer, District food and Civil Supplies Officer, Chief Officer, NIC and Director, Social Justice and Empowerment. Representatives from CSO Network SR Abhiyan and other NGOs from Barmer district were also present in the meeting. In the meetings, decisions were taken on:
| | |
| --- | --- |
| | Order was generated for information disclosure at anganwadis |
| | CMHO will be responsible for reformation of VHSNCs with immediate effect |
| | Order was generated for diplay of list of affiliated private hospital under Bhamashah Swasthya Bima Yojana (Health Insurance Scheme) |
| | CMHO will be responsible for certification of visible disabilities at the PHCs with immediate effect |
| | CMHO will also arrange specialists not available now at the district hospital once a month |
| | DEEO will take stock of toilets constructed with overhead tank in schools and their use |
| | DEEO will facilitate verification of Palanhar yojana beneficiaries status of school or anganwadi enrolment. |
| | Director, SJE said that payment of Palanhar youjana beneficiaries would be made by March 15. |
| | District Food and Civil Supplies Officer took out Order for display of PDS beneficiaries outside the shops and automatic inclusion of social security pension beneficiaries. |
| | Decision was also taken to simplify and fast track the process of SDM appeal for inclusion in priority household. |
| | Rate charts will be painted at all E-mitra outlets. |
| | Additional Collector will take forward the process of organizing camps for allotment of land pattas to Kalbeliya (nomadic) community households. |
| | Orders will be circulated for simplified process of Caste certification. |
In Gujarat, a consultation meeting with the sarpanchs, the CDPO at the ICDS office and the THO for pro-active disclosure at anganwadis and health centres. In the meeting with the District Collector and District Development Officer this has also been raised and the formats prepared have been shared.
Civil society participation to promote access to information and improvement of service delivery
On February 17, 2016, workshop was held with 10 CSOs working in Barmer district of Rajasthan on the issue of strengthening services of Anganwadis. 55 staff and citizen leaders from Unnati participated in the rally organized in Jaipur on Mar 10, 2016 to mark the end of 100 days Jawabdehi Yatra (initiative of CSOs working in Rajasthan under the banner of Suchna Evam Rozgar Adhikar Abhiyan) and ensuring interaction with Secretaries of the various Departments. Staff of Unnati and citizen leaders also engaged throughout the Dharna (sit-in) organized in Jaipur between June 1 and 22, 2016 to demand action on issues that were identified and grievances registered during the Jawabdehi Yatra. Issues identified from our project area have been shared in these forums.
In Gujarat, with the aim to build a network on improving access to government programme and schemes a workshop was held on April 15, 2016 with the CSOs in Sabarkantha. 22 CSOs participated and shared what they are doing. After discussion the following plan of action emerged. Several follow-up actions were decided upon.
In rajasthan, 6 issue notes were developed and shared on Palanhar yojana, PDS, residential plots for Kalbeliya (nomadic) community households, disability certification camps, RTE of children with disabilities and Rajasthan Sampark. Issue note on social security pension developed in 2014 was revised as per change in context.

In Gujarat, following policy level interventions were made:
| | |
| --- | --- |
| | A circular for streamlining processes for holding disability camps by the Commissioner Health and Family Welfare was formally released that includes training of Anganwadi workers, ASHAs and FHWs on early identification of disability, provisioning for audiometry, transportation support for those attending the camp, preparation at camp site etc. |
| | Brief of 10 schemes under the National Trust Act has been prepared in collaboration with BPA in Gujarati and have been circulated by the Department of Social Defence at the district level in Gujarat. |
| | A new circular clarifying that those persons with disabilities with 40% certificates are entitled to Antyodaya cards under the NFSA. The definition of disability acceptable now is as per the Persons with Disabilities Act 1995. A clarification was provided by the Dept of SJE. |
| | The Secretary, the Commissioner of Dept. of Health and Family Welfare, the District Collector,The DDO and the TDO has been updated about the status of PHCs in Poshina and a brief report has been submitted. The problems related to Ajawas PHC, JSY and KPSY benefits not received since the past 3 years has also been submitted. |
| | A comparative statement explaining the provisions by different states for pension for old age, widow and disability was prepared along with relevant government orders and submitted to the Chief Secretary, Principal Secretary Social Justice and Empowerment and Director Social Defence pleading improvement of allocation and enlarging the number of eligible persons in these schemes. |
| | Delivered the fourth Ashok Hans Memorial lecture at SMRC, Bhubaneshwar on August 12, 2016. |
| | For implementation of the writer guidelines for persons with disabilities in the examination, letters have been sent to various concerned departments for implementation in all exams conducted by the state – primary, secondary, higher secondary, university, GPSC, all recruitments etc. Supporting documents related to this have been also collected and submitted – Bombay High Court Judgement, Central guidelines etc. After this submission it was revealed that an order for implementing the central guidelines has already been issued by the Dept. of SJ&E to 30 related departments in the State. |
| | Suggestions and recommendations were provided to the Chief Election Commissioner of India regarding indicators for accessible and inclusive electoral process for persons with disabilities the upcoming election processes in 5 states. An election observer checklist was submitted through the Disability Rights Alliance India network and Vidhya Sagar, Chennai. These will also be shared with the CEO of the Election Commission in Gujarat for the upcoming panchayat elections during December 2016. |
| | Feedback was provided to the department of Food and Civil Supplies for the formation of rules under NFSA through the Right to food campaign and independently. |
EU Partners Review Meeting May 17-20, 2016 at Ahmedabad
EU partners review and planning meeting was jointly hosted with AKRSP and GLRA during May 17 – 20, 2016. There were 60 participants from 20 organisations.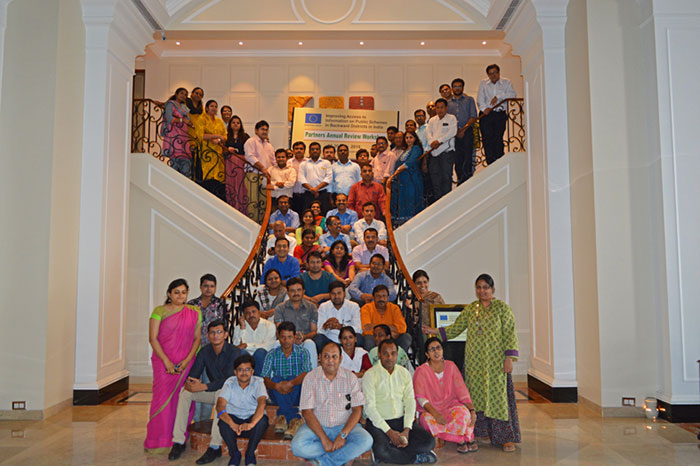 Special Projects / Assignments
Cluster Facilitation Team (CFT) for Effective implementation of MGNREGA and NRLM
Unnati is implementing CFT project in Balesar block of Jodhpur district of Rajasthan since January 2015. This is the second year of our engagement. Some information about the project and outcome of engagement during last year is provided.
The project is one of the strategies to synergise the functioning of two flagship programmes - MGNREGA and NRLM, both addressing the issues of rural unemployment and poverty from different facets. The provision for this strategy was made in the Operational Guidelines of MGNREGA, 2013. The project seeks to enhance rural livelihoods through creation of sustainable assets in MGNREGS. SHGs and Voluntary Organisations (VOs) promoted through NRLM are the vehicles of community participation. It is expected that these organisations of the poor will be able to work in partnership with the gram panchayats and demand their accountability to ensure the entitlements of the vulnerable people. CSOs manage the CFTs and play a facilitation and capacity building role. They mobilize the community for participation in planning and accountability functions for improving the quality of assets and energise the delivery system.
The project is piloted in 250 backward blocks of the country. Its components are: (i) Creation of awareness and demand generation, (ii) Planning works for sustainable livelihoods, (iii) Timely payment of wages to MGNREGA workers, and (v) Capacity building and training of all stakeholders. CFT project is being implemented in 15 selected blocks of 15 districts in Rajasthan as a partnership between Rural Development Department, Government of Rajasthan, Rajasthan Gramin Aajivika Vikas Parishad (RGAVP) and different CSOs. Unnati is responsible for Balesar block of Jodhpur district. There are 26 gram panchayats and 111 revenue villages in the block. A team of 9 community facilitators is coordinated by a Programme Officer.
During the one year of implementation of the project, there have been improvements in the number of labour days, labour budget utilization, on-time payments, on-going works, individual and common assets created. Data on some of the parameters are given below :
| | | | | |
| --- | --- | --- | --- | --- |
| SNo. | Indicators | December 2014 (baseline) | December 2015 (year 1) | Variance |
| 1 | Person Days Generated (no.) | 3,77,309 | 4,08,219 | 67,985 |
| 2 | Utilization of labour budget (%) | 35.72 | 71.06 | 35.34 |
| 3 | Payment within 15 Days (%) | 6.41 | 39.44 | 33.03 |
| 4 | Delayed Payments (no. of labour) | 34,562 | 21,762 | - 12,800 |
| 4.1 | Payment within 15 Days (%) | 17,323 | 19,939 | 2,616 |
| 4.2 | Payment in 30 – 60 days | 14,202 | 865 | - 13,337 |
| 4.3 | Payment in 60 – 90 days | 2,552 | 606 | - 1,946 |
| 4.4 | More than 90 Days | 485 | 352 | - 133 |
| 5 | On-going works (March 2015 baseline) | 415 | 559 | 144 |
| 5.1 | Individual Assets | 138 | 216 | 78 |
| 5.2 | Public works | 277 | 343 | 66 |
| 6 | SC/ST HHs Completed 100 Days work (baseline of March 2015) | 285 | 214 | |
| 6.1 | Person days of SC/ ST HHs (baseline of March 2015) | 2,474 | 2,454 | |
| 6.2 | Average Person Days for SC HHs | 51.25 | 53.22 | 1.97 |
| 6.3 | Average Person Days for ST HHs | 48.25 | 53.62 | 5.37 |
Socio-economic baseline assessment study under the GIZ supported project 'Conservation and Sustainable Management of Existing and Potential Coastal and Marine Protected Areas'
(Oct, 2015 - Apr, 2016)
UNNATI is conducting a socio-economic baseline assessment in 12 villages located around two wetlands viz. Khijadiya Bird Sanctuary, Jamnagar and Gosabara Wetland, Porbandar to develop an understanding of the eco systems, the biodiversity, communities living in and around the project areas, their interdependence on these ecosystems and perceptions about the use of resources and existing and potential livelihoods. This understanding shall be used to develop frameworks and plans for conservation and sustainable management of existing and potential coastal and marine protected areas. This study is a part of a larger project for which the Ministry of Environment, Forests and Climate Change (MoEFCC) and GIZ India have entered into collaboration for implementation of the project 'Conservation and Sustainable Management of Existing and Potential Coastal and Marine Protected Areas' (CMPA) in four states, including Gujarat. The study is being carried out by UNNATI with GIZ support.
Participatory methodology will be used to conduct the baseline so as to engage the communities and other stakeholders in assuming an active role in analysing their own living conditions, problems and potentials for desired change of their situation. Any changes for improved wetland conservation and management require collective action and through involving the local communities, the potential of their assuming responsibilities for implementing some activities will increase.
Capacity Building of PRIs on Promotion of Women and Children Rights and Development in Gujarat (Training Modules and Materials for District Resource Persons for Training of PRIs)
(July, 2015 - Mar, 2016)
A set of seven training modules and materials for enhancing the capacity of PRIs on promotion of rights of children and effective implementation of public programs especially those designed for them is being prepared with support of UNICEF, Gujarat. The Gram Panchayats need to have a clear understanding and skill to implement appropriate rights based framework, social justice laws and programs/schemes for children. To build the capacity of PRIs for effective implementation of program and schemes related to children, capacity of trainers at the district level in Gujarat will be developed to provide support to them.
The training modules will focus on use of participatory learning process, building on the learning of the participants and helping them to explore their reality using their own experiences. The proposed methodology shall be experience based, open-ended and group centered so as to help participants improve and strengthen their work. Trainers will be equipped with the required information on children's issues and equipped to use participatory training methods on the set of contents identified to build the capacities of PRI representatives. The Training of Trainers will be organised by State Institute of Rural Development, Gujarat.